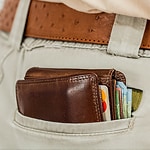 When you're driving throughout the week in Forest, you likely want to get the best fuel mileage possible. One of the ways that you can do that is by keeping a half-tank of fuel in your vehicle. This can help decrease the chance of dirt and debris from the bottom of the tank getting through the fuel lines, which can result in decreased fuel mileage.
Try to combine a few trips together so that you don't have to travel several times throughout the week in Lynchburg, VA. If possible, try to park in a central location so that you're not starting and turning off your vehicle multiple times. Avoid speeding as well as this typically requires more power from various components of your vehicle, resulting in a demand for more fuel.
While at Terry Auto Outlet VA, consider talking about removing the roof racks or other items that could cause a drag with the aerodynamics. You also want to make sure you put high-quality fuel in your vehicle so that it doesn't have impurities or even water that can damage the fuel filters.