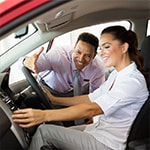 Our inventory at Terry Auto Outlet VA in Lynchburg, VA contains used vehicles, and they're just as popular and sought-after as their newer counterparts. We often ask our customers for any tips they keep in mind when buying a used car. Here are a few wonderful tips they shared with us.
Get Your Money Straight
How much can you afford on your used car? Do you have a trade-in and/or some other tender for the down payment? Regardless of how much you put down, average monthly car expenses are about 10 to 15 percent of your take-home pay. Try to remember this when deciding which used car price tag to foot. If possible, get pre-approved for financing.
Private Sale or Dealership?
Both scenarios have perks. Private sellers are much more open to price-haggling, which could mean major discounts. On the other, dealerships are open to price-haggling on used cars. Plus, they often offer Certified Pre-Owned vehicles as well. These are late-model vehicles that pass multi-point inspection tests and receive repairs and upgrades to factory specs. They even come with CPO warranties, some upgradeable and transferrable.
Get a CARFAX Vehicle History Report
Find out where your future used car has been, who owned it, and what damage and repairs it sustained. The Vehicle History Report also contains odometer readings.
Haggle Over the Price
This is the best part. It's central to used car culture, and it's your time to shine and get the affordable used car price you deserve.