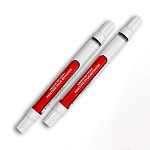 Quick paint touch-ups can make a world of difference in auto aesthetics. Knowing that these repairs are possible gives Lynchburg, VA drivers peace of mind. The threat of rolling shopping carts and fast-opening car doors seems much smaller when there's a feasible way to undo minor paint damage. However, at Terry Auto Outlet VA, we believe that it's usually best to hand these projects off to professionals. Following are several reasons why.
Touch-up Mistakes Can Be Even More Expensive to Correct
If you make a mistake or two while touching up your paint, you may have to pay more to correct your errors than you would if simply outsourcing this job from the outset. Touch-up painting requires steady hands and skilled paint application. Touch-up paints go on in many thin layers. They also have to be sanded at their edges and skillfully finished by floating a liquid gloss.
Bad Touch-up Paint Can Diminish Your Auto's Marketability and Value
If you have a relatively new auto, you definitely want to hire a professional. Poor touch-up paint can make your vehicle more difficult to sell in the future, and it may even impact its resale value.