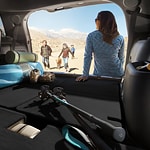 A road trip through Bedford, VA can be fun, but you need to follow a few safety tips. Consider a visit to Terry Auto Outlet VA before leaving to ensure that your tires are in good condition as well as the other basic components of your vehicle so that you're not stuck on the side of the road.
Prepare for the type of weather conditions that you could see when you're on the road in Lynchburg, VA. If you're traveling in the winter, you want to have chains for your tires, blankets, and gloves while an umbrella can be useful in the spring and summer. If the weather is too severe, consider stopping somewhere until it passes.
If you know that you're going to be on the road for a few hours, make sure you get plenty of sleep the night before you leave. You can share the driving duties with someone else if you begin to feel tired while behind the wheel.