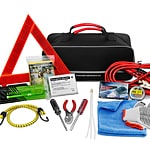 Nobody likes to consider having a roadside emergency. But no matter how good of a driver you are in Lynchburg, VA, you may find yourself in an emergency. Whether from severe weather, poor roads, or a vehicle malfunction, follow these tips from our staff at Terry Auto Outlet VA to stay safe.
When you notice you are having trouble, turn on your hazard lights. This alerts vehicles to the fact that you may suddenly stop or need to pull over.
Remove yourself from traffic as soon as possible. Try to remain in your car. Only get out of your car if you have flares to put around your vehicle. Trying to repair your vehicle by yourself is generally not a good idea. Instead, call for help. Incidents involving bodily harm or even death may happen if you attempt to repair your vehicle instead of waiting on the pros to arrive.