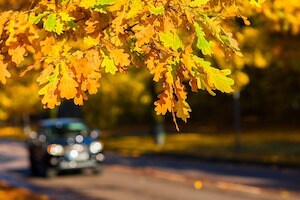 Summer is a great time of year for driving. The weather is often perfect for hitting the open road, and you may log a lot of miles as you head to vacation spots, summer parties with friends, and more. However, all summers have to come to an end, and eventually, you'll need to transition into the fall and winter seasons. Thanks to the tips listed below, you should be able to make that transition without any trouble.
Want to check out the best Lynchburg used cars on the market today? No problem – just stop by Terry Auto during business hours to see our inventory and ask any questions you may have. Our friendly team will be happy to assist you in your search – don't wait any longer to find the perfect used car for you and your family.
Time for an Oil Change?
After all of those summer miles, your vehicle is likely ready for an oil change. Since changing your vehicle's oil is one of the key points of preventative maintenance that you need to manage, it's wise not to put off this task. Along with having the oil changed, fall is a good time to handle other maintenance tasks like having fluid levels checked, brakes checked, etc. Consult your owner's manual and determine what kind of work needs to be done at this time.
A Thorough Clean-out
Another side effect of racking up big miles in the summer is that your vehicle may be rather messy at this time. If you look around the interior of your car or truck and see quite of bit of trash and other items, it's time to schedule a cleaning when you have some free time. Fortunately, this task usually doesn't take as long as you would expect, so bring out a trash bag and get to work. Once the debris is removed, wipe everything down and vacuum the carpets. Most likely, you'll spend less than half an hour on the job, and your vehicle will look great when you're finished.
Prepare for Winter?
The Piedmont area has relatively mild winters compared to our neighbors in the north. But we still see enough snow and ice that it warrants being prepared. Specifically, you'll want to make sure you have the right tires available for cold/snowy driving, and the right equipment on board (such as an ice scraper, tire chains, etc.).
Clean Out That Garage
During the fall months, park your vehicle inside your garage. Clean out the garage to make space for your car is necessary. It's good to park inside during the fall and winter months when leaves are coming down, rain may be falling, and generally, unsettled weather is present. Clean out your garage to make room for your vehicle and open up a secure place to park.