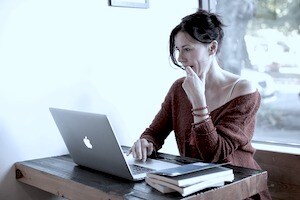 The internet is an incredibly powerful tool. No matter what you want to know, or what you want to find, there is a good chance that the web can come to your assistance. For instance, when getting ready to buy a car, you can find a world of information right at your fingertips. But is online used car shopping all it's cracked up to be? Maybe not – let's take a look at some potential issues with this strategy.
There are plenty of car dealerships in Lynchburg, VA, to pick from, but be sure to keep Terry Auto high on your list. With our large selection of quality used cars, you are likely to find your next vehicle on your first visit to our lot.
1- Pictures Can Lie
These days, it seems that every used car listing online comes with about 20 or 30 pictures for you to view. That's great – you can check out the car without even getting off your couch. But here's the thing – those pictures might not tell the whole truth. The car's seller is going to use pictures that paint a flattering picture, so you might not see some blemishes or other issues. The only way to know for sure what you're getting is to go see it for yourself.
2 – Misleading Pricing
Unfortunately, some less-than-honest car sellers may advertise one price online, only to not make that price available to you when it comes time to make a purchase. They do this to draw you into the lot, of course, but it is an unethical tactic and one that is sure to frustrate you as the buyer. Only work with lots you can trust, like Terry Auto, to make sure you don't fall into this situation.
3 – Disappearing Inventory
Imagine that you have taken the time to search a variety of sites online, and you have located a vehicle that seems perfect for your needs. So, you head to the lot – and it isn't there! Either it has been sold in the meantime, or it wasn't there to begin with. This was another method to bring you out in person. Either way, you'll have wasted time and will be right back at square one. If you shop in person, you will see the car right there in front of you and won't have to worry about this problem.
4 – Endless Searching
The scope of the internet can be a problem when it comes to making a car purchase. With so many used vehicles available to browse, you might find yourself in an endless cycle of searching, rather than narrowing down your choices, and making a decision. The internet is virtually endless – you could be exploring various used models until the end of time. When you shop in person at a trusted used car lot, you will be able to consider the vehicles on the property and quickly decide as to whether any of them is right for you.